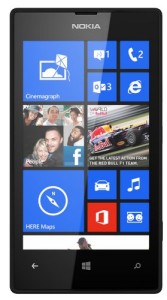 Shopping for a new phone, but working on a small budget? No problem, you can find some pretty nice phones available these days in almost any price range – without sacrificing features.
One of those phones is the Nokia Lumia 521, one of a family of powerful, budget-friendly smartphones from Nokia.
Apparently, a few large retailers also realized what a great value this phone truly is.
Walmart began selling the Nokia Lumia 521 in its stores on May 10th. On May 22nd, T-Mobile and Microsoft also began selling the budget Windows 8 phone… Source.
If you're wondering what makes this smartphone such a good value, than watch the video below.
It reviews the Nokia Lumia 521 smartphone, a great device that at the time of this writing, comes with a $150 off-contract price tag from T-Mobile.
That makes this Nokia Lumia phone one of the best deals around.
You can find more great buys on the Nokia Lumia 521 below: