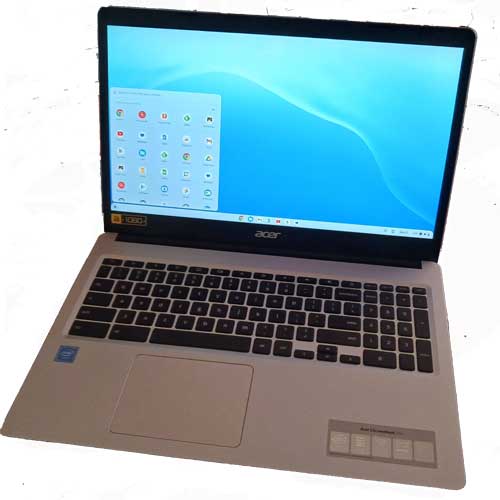 Acer Chromebook 315
Looking for a laptop that is both powerful and portable? Look no further than Acer's flagship Chromebook 315.
This sleek and stylish device packs a punch with its Intel Celeron N4020 Processor, 4GB DDR4 RAM, and 64GB eMMC. Add to that its 1080p touchscreen display, and you have a machine perfect for work or play.
But what really sets this laptop apart from the competition is its built-in protection and automatic updates. With these features, you can rest easy knowing that your data is safe and your software is always up to date.
So whether you're using it for school assignments, office tasks, or just browsing the web, the Acer 315 Chromebook has it covered.
I recently replaced an older Asus laptop with the Acer Chromebook 315 for my home office, and I've been very pleased with its overall performance.
Factors to Consider Before You Buy
If you're considering buying an Acer Chromebook 315, there are several factors to keep in mind.
The cost will likely be a consideration, even though Chromebooks are often less expensive than their counterpart laptops.
Processor speed and battery life are also key considerations if you use your laptop for work or entertainment.
Storage capacity and RAM should also be considered based on your usage needs and preferences.
Finally, weight may be a factor if portability is important to you.
Consider each of these factors carefully before making your purchase decision.
Let's take a closer look at what the Acer Chromebook 315 offers.
Image:Amazon.com
Cost
Even with a higher price tag than some other Chromebooks on the market, you'll find that the value of the Acer 315 is worth every penny. It's important to consider what you're getting for your money.
The Acer Chromebook 315 boasts an impressive 15.6-inch Full HD IPS touchscreen display, Intel Celeron N4020 processor, and 4GB DDR4 RAM, making it a powerful device for work or play. Its lightweight design and long battery life make it convenient to take on the go.
While cheaper options are available, they often lack Acer's flagship Chromebook's features and performance capabilities.
Investing in this device is a smart choice if you're looking for a laptop that can keep up with your daily needs and provide high-quality visuals and touch capabilities. Plus, with its included one-year manufacturer warranty, you can trust its durability and reliability.
Screen Size
You'll appreciate the new Acer Chromebook 315's generous 15.6-inch Full HD IPS touchscreen display. This screen size is perfect for multitasking and streaming videos in high definition. With its IPS technology, you'll be able to enjoy wide viewing angles and accurate color reproduction.
The laptop's touchscreen feature enables you to interact with your device more intuitively. You can easily swipe through web pages and pinch-to-zoom on images with just a few taps of your fingertips.
The large screen size and responsive touch functionality make this Chromebook an excellent choice for work and entertainment.
Moving on from the impressive screen size, let's look at the processor speed.
Image:Amazon.com
Processor Speed
Let's check out the processor speed of this bad boy. The Acer Chromebook 315 has an Intel Celeron N4020 Processor, which runs at a dual-core speed of 1.1 GHz. This should be sufficient for most daily tasks, such as browsing the internet, streaming videos, and working on documents. However, it may struggle with more demanding tasks like video editing and gaming.
The graphics card is integrated into the processor itself – an Intel UHD Graphics 600 – which means it doesn't have its own dedicated memory and instead shares the RAM with other processes.
The overall performance of this machine should satisfy most casual users looking for a reliable device for their day-to-day needs.
Regarding reliability, let's move on to the next section about battery life and see how long you can expect this Chromebook to last on a single charge.
Battery Life
If you need a laptop that can keep up with your busy schedule without running out of battery, then the Acer Chromebook 315 is worth considering. This device offers impressive battery life of up to 12.5 hours on a single charge, thanks to its 3-cell Lithium Ion (Li-Ion) battery.
This means you can use it for an entire day of work or school without worrying about finding an outlet to plug it in.
The Chromebook 315 also comes with built-in protection and automatic updates. These features ensure that your device stays secure and up-to-date at all times, making it a great option for business professionals, students, or anyone else who needs a reliable device that they can count on.
Now let's take a closer look at the storage capacity of this device.
Image:Amazon.com
Storage Capacity
The storage capacity of this device is worth exploring, as it offers a 64GB eMMC and a 32GB ABYS Micro SD Memory Card with Adapter included in the bundle.
This means you have plenty of space to store your documents, photos, and videos without worrying about running out of storage.
Here are some things to consider when it comes to the storage capacity of the Acer Chromebook 315:
The eMMC storage provides fast boot times and quick access to your files.
The microSD card slot expands your storage further, making storing large files or installing additional applications easy.
With all this extra storage space, you can work and play without limitations.
But what about memory? Let's look at the RAM on this device and how it can impact performance.
Image:Amazon.com
RAM
The Acer 315 comes with 4GB DDR4 RAM, which is sufficient for everyday tasks such as web browsing, streaming videos, and working on documents. However, if you plan on running more demanding applications or multitasking heavily, you may experience some lag.
It's worth noting that Chrome OS is designed to be lightweight and efficient, so even with only 4GB of RAM, you should still experience a smooth performance. As you may know, Chromebooks are known for their fast boot-up times and quick processing speed due to their reliance on cloud-based storage.
While the RAM capacity may not be as high as some other laptops on the market, it shouldn't negatively impact your experience unless you use more demanding software or applications.
Portability
Weighing only 4.8 lbs, this laptop is incredibly lightweight and easy to carry with you wherever you go. This lightweight design makes it perfect for work, school, or play, without weighing you down.
With all the features packed into such a portable device, it's no wonder this Chromebook is a popular choice among students and professionals who are always on the go!
Acer Chromebook 315: Frequently Asked Questions 
What is the battery life?
The Acer Chromebook 315 has a battery life of 12.5 hours on a single charge.
That means you can work, study, or play all day without worrying about finding an outlet. Its thin and light design makes it easy to take anywhere, whether heading to class or traveling for business.
With the built-in protection and automatic updates of Chrome OS, along with all the Google apps you need right at your fingertips, this laptop is perfect for anyone who wants to stay connected and productive while on the move.
Does it have a backlit keyboard?
Unfortunately, the Acer 315 Chromebook doesn't come equipped with one.
Can the storage be expanded?
Yes. The device has a USB Type-C port for external storage options and two USB 3.1 Gen 1 Type-A ports for additional connectivity.
You can also utilize cloud storage options through Google Drive or other third-party services to store and access your files from anywhere.
What is the warranty period?
The Acer Chromebook 315 comes with a 1-year manufacturer warranty, which should give you the peace of mind you need when making such an investment.
Amazon.com offers a 30-day return policy if you encounter any issues during the first month of use. Other retailers have similar return policies but check before you buy.
Does it support external displays?
Yes, the Acer 315 has got you covered.
With its USB Type-C port, you can connect the laptop to a compatible monitor or TV and enjoy a larger screen for work or entertainment.
This Chromebook supports video output up to 4K resolution, providing high-quality visuals for your viewing pleasure.
Image:Amazon.com
Final Thoughts
The Acer Chromebook 315 is easy to use and has a great design. The keyboard is comfortable to type on, and the trackpad is responsive. The touchscreen is also very responsive.
The Chromebook runs smoothly and quickly, allowing me to open applications and multitask easily. I haven't experienced any slowdowns or lag while running multiple applications simultaneously.
It also runs quietly, so I don't have to worry about distracting noise from the fans or other components.
The Chromebook also has impressive security features, including a secure boot, verified boot, sandboxing, data encryption, and user authentication. This ensures that my data is secure, and I can rest easy knowing my information is safe.
Moving from a Windows OS to a Chrome OS doesn't allow me to do some things, like advanced video editing, but since I do most of my video editing on my desktop computer anyway, it's not a big deal.
However, this may not be your best choice if you require more power for demanding applications or multitasking.
Does the Acer Chromebook 315 make your shortlist? Based on my experience, it's a great option for those who want a reliable, powerful, secure, and lightweight device that can handle basic tasks and web browsing at a great price.
After shopping around, I found the best overall deal on the Acer Chromebook at Amazon.