The Best Wireless Home Security Cameras Under $200
When it comes to your personal peace of mind, wireless home security cameras are an item that should be on the top of your list.
If you've been shopping for a wireless camera for your home, you know that there are many things to consider, such as video quality, ease of use, two-way talk and recording capability, as well as price.
Here are five of the best wireless home security cameras available today that can currently be purchased for less than $200.
Watch this short video, then check out the models and features that follow:
I'm glad you took a few minutes to check that out! Hopefully, it provided you with some value if you're in the market for a wireless security camera.
Here's a recap…
Here are the cameras and links to find more information on each of them.
Dropcam Pro Wi-Fi Wireless Video Monitoring Camera
No matter where you are, a Dropcam video monitoring camera helps you to keep an eye on your home, your children, your pets or your small business.
In less than 60 seconds, you'll have it up and running, securely streaming HD video to you on any device such as your Apple Mac, Windows PC, iPhone, iPad, iPod touch or Android device, using the free Dropcam app.
The Dropcam Pro camera comes with night vision, HD video, two-way talk, and digital zoom. Combine that with secure online Cloud Video Recording (CVR), and you will be able to watch live and recorded video from anywhere on any device.
Discover how Dropcam makes monitoring your home or business easy and affordable. A great choice for $199. Get it here
Foscam FI8910W Pan/Tilt Wi-Fi Camera
Knowing your loved ones and personal belongings are safe is easy and convenient with any of Foscam's wireless home security cameras. The FI8910W streams live video and audio directly to your personal computer, your smartphone or your tablet.
And the world's most popular monitoring camera is designed to work right of the box. Just connect the camera to your wireless network, set up port-forwarding and you're ready to go. Keep an eye on virtually anything happening around your home or business while you're away.
With its 11 infrared LEDs and an IR cut-off filter, this camera records high-quality video in the daytime and in total darkness as well, up to 26 feet away. And at $65, it's a tremendous value as well. Get it here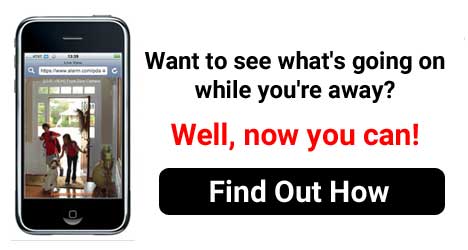 Tenvis Wireless Surveillance Camera
If you're just getting started with surveillance cameras, or looking a solid budget camera to add to your home or business, this Tenvis cam is worth a look.
With its new and more user-friendly interface, enhanced Wi-Fi signal reception, and extended power cord adapter, the Tenvis JPT3815W is a great camera for the money. Priced at $33, it's an affordable way to get started with surveillance cameras, or add to your existing network. Get it here
Foscam FBM3501 Digital Video Baby Monitor
The Foscam FBM3501 is a fully-featured, easy to use wireless home and baby monitor. Perfect for monitoring everything important in your home including your baby, your pet, or even elderly parents, giving you peace of mind no matter where you physically are within your home.
The FBM3501 comes equipped with 2.4 GHz wireless and interference-free communication, delivering both high-quality video and audio. It also has non-visible infra-red LEDs for night vision, a temperature monitor, and a voice-activated power-off feature.
Its rechargeable, lithium-ion battery operated 3.5″ LCD portable LCD monitor gives you hours of mobile use, and outdoor monitoring at just under 1000 feet away without obstructions.
In addition to these features, you can hook up to 4 camera units, which you can pair and switch between, all from a single monitor. The monitor also includes a feeding timer, room temperature, and the current time. At $120, it delivers peace of mind and a lot of value for the money. Get it here
D-Link Wireless Network Surveillance Camera
If you're looking for a flexible solution for monitoring your home or small business, D-Link's wireless home security cameras are definitely worth a look, particularly the D-Link Pan & Tilt Day/Night Network Camera (DCS-5010L).,/p>
With its clarity and mobile control, this camera lets you keep an eye on what matters to you. Simply download the free my Dlink app and you can monitor your home or business from anywhere, at any time, on your smartphone or tablet.
An outstanding value at just $76. Get it here
For more wireless home security cameras and systems at great prices, check the listings here:
Wireless Home Security Cameras on eBay
Thanks for reading this far. I'm Jeff, and I'm dedicated to bringing you the top and best tech and gadget products and reviews.
If you're interested, then why not subscribe below, so you don't miss anything?
Sign up and stay informed about wireless home security camera and more…
Enter your email address so that I can update you whenever a new video is added to our site. The emails you receive from me will not be promotional in nature. They'll merely be notifications of new video reviews that are released. 🙂
If you don't wanna miss anything, join for free right here…
Your information will only be used to send you blog updates. You can change your mind at any time by clicking the unsubscribe link at the bottom of any email that you receive. You can find details about this site's privacy practices here.
Not interested in subscribing? No problem, but I would be very grateful if you clicked the Facebook "Like" button or the Twitter "Follow" button in the sidebar. Or at a minimum, please share this post via one of the social share buttons below. 🙂
Lastly, your input does mean a lot to me. Please let me know what you liked or didn't like about the video. Use the comments section below.
Hope to see you again soon!
Jeff Thomas and the gang at EPR