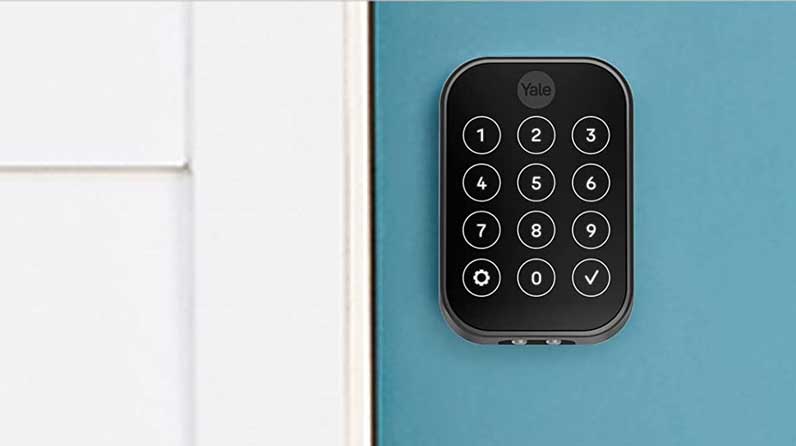 The Yale Assure Lock 2 is a great choice for anyone looking to add an extra layer of security to their home. It features a slim, modern design, which is easy to install on most standard doors.
What's To Like?
Its features make it stand out, like a touchscreen keypad allowing you to quickly unlock the door with a code. It also has a key override feature, allowing users to unlock the door with a physical key in case of a power outage or emergency.
It is Bluetooth-enabled, allowing you to pair it with a compatible smartphone and unlock the door by pressing a button. The lock is also compatible with various home automation systems so that you can control it from your smartphone or tablet.
The installation directions were clear and concise, so installing the lock was easy. The voice-guided feature made it easier to set it up without needing to refer to a manual.
What's Not To Like?
So far, not much. My only concern was battery life, but they still work fine after a few months.
Here's What Sold Me
After watching the video below, I recently purchased my Yale 2 Assure Lock, and I'm so glad I did. This is a great product that can help secure your home and provide you with peace of mind.
The unique design makes it stand out from other locks on the market, and in my opinion, is a great product for anyone looking to upgrade their home security.
What I Think
Overall, I'm impressed with the Yale 2 Assure Lock. The model I chose to buy is the YRD450-WF1-BSP, but others are available.
It was easy to install and set up, and the touchscreen keypad was responsive. The Bluetooth-enabled feature allows me to unlock the door with the press of a button quickly. That's the feature I like the most.
For me, the key override feature is essential in the case of a power outage or emergency.
The lock is reliable and provides security and peace of mind, making it a solid value. I recommend this product to others looking for a secure digital door lock.
Stay Updated
To receive updates when I add something new, enter your email address.
We will only use your information to send you our blog updates. You can change your mind anytime by clicking the unsubscribe link at the bottom of any email you receive from us. You can find details about our privacy practices here.
You can also join me on social media to continue the conversation.